Nick Keir (1953-2013). He was a great friend to Stephen and I. We'll miss him so much. Please see the biography page for the obituaries of Nick and Derek.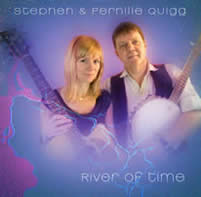 "I've nothing to gain by saying this, because the Macs are a thing of the past, but this album by Stephen and Pernille is a real cracker. There's a lovely combination of old and new and the balance of the two voices is magic. I thoroughly recommend It." Ian McCalman

"McCalmans Final Concert Uncut + The Good Old Days"
The new, the only, DVD is available now. If you've not got PayPal or a credit/debit card, get in touch via the "contacts" page. Probably the best way to see what's on the DVD is to click on the cover picture on the "Home" page. Nick and Stephen will be selling the DVDs at gigs and hope to have some for the German tour.
The "Final Concert Uncut" DVD has 23 songs of "high definition Macs" plus old Macs footage including another 12 songs (many previously unrecorded) and some hilarious moments from past performances.
Recording at Kevock Digital
My studio, Kevock Digital is too busy and I want a rest! My golf must improve, Ian
Souvenir Booklet is out NOW
The Macs have produced, with the help of "Living Tradition", 24 fascinating pages of the group's history, filled with old photos, reminiscences and some hilarious memories of times recent and past.
Old Macs Albums
Great news, all the old macs albums are now available to buy. The albums are recorded as "one-off" CDs and include copies of the original artwork. The price for each album is £15, which is payable by paypal or cheque, once you have received the album. For more details or to place an order, get in touch via "Buy the Macs' Music" or via the "contact" page and we can tell you how to do it.
A retro review
McCalmans played Celtic Connections in 2010. Read the Herald review here.