We've had to make some alternatives to our way of selling albums because Customs' duty and higher postage charges, due to "you know what", have transformed the sending of CDs into a luxury hobby.
ALL OLD McCALMANS' LP RECORDS, UP TO AND INCLUDING "Ancestral Manoeuvres", HAVE BEEN RE-MASTERED, AND ARE NOW AVAILABLE ON BANDCAMP.
DOWNLOAD SINGLE TRACKS FOR £1.00 OR ALBUMS FOR £7.00. SIMPLY CLICK ON mccalmans.bandcamp.com
ALL REMAINING LPs ARE CURRENTLY BEING REMASTERED AND WILL BE ONLINE AT BANDCAMP SOON.
Sign up as a "follower" on the McCalmans' Bandcamp site for the latest releases. All our Bandcamp stuff has three free plays. Can you stand any more?
ALL McCALMANS' GREENTRAX ALBUMS CAN BE FOUND AT https://www.greentrax.com/music/catalogue
THE QUIGGS ARE ALSO ON BANDCAMP WITH ALMOST EVERY ALBUM AVAILABLE FOR DOWNLOAD, PLEASE PRESS: the-quiggs.bandcamp.com
MINI BIOG of The McCalmans.
Scottish folk singers, song writers, talkers, travellers, friends. Formed 1964 whilst architecture students. First gig in The Waverley Bar, Edinburgh. Pubs/clubs. Concerts. First album 1967. Multiple TV series. Tours in UK, Denmark, rest of Europe, world. "Best live act" award, "Hall of Fame", 27 albums, recorded 400 songs, retired 2010. Only ever three in the Macs' line-up. Total of five musicians in 46 years."The McCalmans" retired in 2010 but the memory lingers on. Derek Moffat and Nick Keir, huge influences in the band, tragically passed away and are sorely missed. Stephen is still very successful with his concerts and tours, often singing with his wife Pernille (The Quiggs). Ian writes songs and stage productions ("Far Far From Ypres", "No Pasaran", "Singing Sixties" ) and records/produces in his studio. Hamish lives in Orkney and still plays beautifully.
FOR "FAR, FAR FROM YPRES" FREE SCRIPT, HISTORY, CAST, PHOTOS ETC., PRESS THIS LINK
More info. http://www.the-mccalmans.com/FarFarFromYpres_000.htm

KEVOCK DIGITAL and IAN McCALMAN To buy any Macs' albums, DVD, booklet, etc press this link
Far, Far From Ypres

The Concert DVD To buy, click this link FAR, FAR FROM YPRES UK £15.00 Rest of World £17.00

FIRST MINISTER, Nicola Sturgeon (@NicolaSturgeon) said:
Far, Far from Ypres at the Usher Hall was quite simply stunning - powerful, sad, emotional, honest...but uplifting too. And what an amazing cast - delighted to get the chance to say thank you to some of them.
Reviews of "Lost Tracks"
"A very welcome treat...everything the McCalmans did best.....Ian McCalman has done a great job in tracking down gems from all eras....undoubtedly welcomed by The McCalmans' very many fans."
LIVING TRADITION REVIEW:
"Nick Keir's magical "Cold Night In This Old Town", which is a corker..... the hilarious "Bonnyrig Banker", "So The Years Roll On"...... the perfect way to bow out. This album is dedicated to the absent members who have passed – Derek Moffat and Nick Keir. They would have been bursting with pride." Grem Devlin
CLICK ON TRACKS FOR SONG TEXTS
Pernille & Stephen "The Quiggs" (News: new album out soon)
This album by Stephen and Pernille is a real cracker. There's a lovely combination of old and new and the balance of the two voices is magic. I thoroughly recommend It." Ian McCalman
STEPHEN, STEPHEN/PERNILLE - FULL GIGS LINK.
Ian's studio page link

A silly video http://www.youtube.com/watch?v=7hTroqFrwms
.

Double album with 37 tracks,
£12.00 (£14.00 overseas)
DVDDVD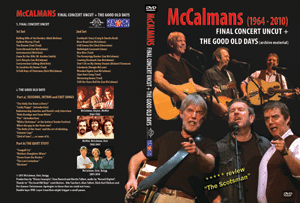 New pressing
Final concert & the good old days
Now in plastic wallet

24 page glossy brochure
about the Macs

"Greentrax Years" Double album,
47 tracks from all line-ups.
Single CD price

Ian's songs performed by other musicians
Dickson, Gaughan, Bain, Cunningham, Taylor,
St Clair, Steele, Sangsters, Wellington etc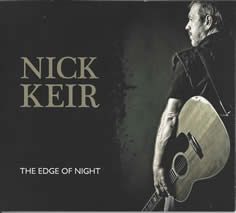 Definitive, final
album from Nick. Masterly.