McCalmans Scottish folk singers, song writers, talkers, travellers, friends. Formed 1964 whilst architecture students. Pubs/clubs. First album 1967. Multiple TV series. Concerts. Tours in UK, Denmark, rest of Europe, world. "Best live act" award, "Hall of Fame", 26 albums, recorded 400 songs, retired 2010. Only ever three in the Macs' line-up. Total of five musicians in 46 years.
"The McCalmans" retired in 2010 but the memory lingers on. Derek Moffat and Nick Keir, huge influences in the band, tragically passed away and are sorely missed. Stephen is still very successful with his concerts and tours, often singing with his wife Pernille. Ian writes songs and stage productions ("Ypres") and records/produces in his studio. Hamish makes concertinas in Orkney and still plays beautifully.
Latest:
Working on an album celebrating the many Greentrax projects. Almost all of them involving "The Macs".
Fund-raising for "Sports Relief" has raised £3,900.00 via Ian's "Pensioners over the hill" initiative. Here's the link to Midlothian Advertiser's article: midlothian-walkers-on-top-of-the-world
Look out for a new release by "GREENTRAX": "Scotia Nova (songs for the early days of a better nation)". The "live" concert of the album at "Celtic Connections" was a brilliant event.
Planning has started for a series of "Far, Far From Ypres" concerts in 2018 and we had another memorable evening of the production, "Far Far From Ypres", at "The Eden Court", Inverness. The list of engagements grow ever larger but the waiting list for the show increases even more as we wait to see if we can get funding for slightly smaller concerts. More than 100 scripts have now been sent out to those interested in presenting their own local performances of the production. Scripts of "Ypres" are free and will be sent to those requesting them via email. Contact this site if you would like a script.
Many of the Bordeaux (Martignas) organisers of our "Ypres" concert in France, came over for the Scotland v France rugby match. An almighty party "happened" at Ian and Ellen's house with an amazing 4 hour singing session, which was declared a draw by impartial onlookers. Scotland won the rugby though!
**Pernille & Stephen Quigg "River of Time" New Release 2015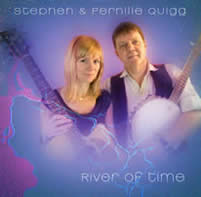 "I've nothing to gain by saying this, because the Macs are a thing of the past, but this album by Stephen and Pernille is a real cracker. There's a lovely combination of old and new and the balance of the two voices is magic. I thoroughly recommend It." Ian McCalman
"The McCalmans Collection" link
Available here
Nick's music was of great importance to him and us, so we'll keep up the news of his fine new album.
Probably the best way to order this album is to contact this website and we'll try to track one down for you.
The Edge of Night (LRK004)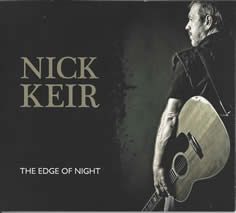 Pernille's album "Driftwood" link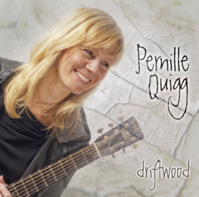 Available here
youtube:
"Peatbog Soldiers", recorded, 1979 http://www.youtube.com/watch?v=cMwwPTjadv8
A silly video http://www.youtube.com/watch?v=7hTroqFrwms
Ian's studio page link

Press this link to find out more information about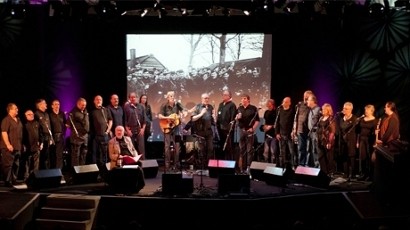 DVD!
"McCalmans' Final Concert Uncut + The Good Old Days"
Run-time of 2hours 45 minutes, High Definition plus old Macs' archive footage.
"Superb", "brilliantly produced", "excellent", "the quality is stunning", "wonderful archive footage", "perfect momento",
Actual quotes from buyer's comments and reviews......honest! Ian
.
---
Souvenir Brochure
Available to buy now is the McCalmans souvenir brochure packed with photographs, info and funny asides about the group past and present.

LIMITED EDITION of 1,000

Prices include postage
£10 - Europe
£12 - Rest of World